October 29-December 18, 2009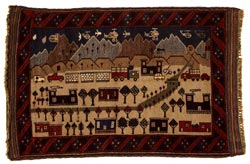 Three decades of wars have deeply marked the entire culture of Afghanistan, yet artistic expression, particularly through carpets, has been maintained in spite of hardships including displacement to refugee camps.
In traditional Afghani carpet-weaving, patterns tended to be geometric or floral, reflecting the Islamic rejection of anthropomorphic depictions. However, by the mid-1980s, in response to the 1979 Soviet invasion, Afghani weavers, principally women, were creating carpets that showed Russian tanks, helicopters and guns. The subtle geometric borders often contained rows of bullets and grenades. Most recently, these war carpets have included references to the American conflict and even to 9/11. Although many of the carpets have Arabic or Persian woven into their designs, the Afghani who created them found a market for these rugs in the West. In part this may be for their presumed anti-war sentiments but also, while the rugs are generally traditional in design and relatively inexpensive, they are nonetheless a contemporary artistic expression of a centuries-old craft.
In this exhibition of over fifty contemporary Afghan carpets showing both war and traditional designs, the rugs offer a commentary on modern Afghanistan history and, in their maintenance of a vibrant tradition, a measure of hope for the future.
This exhibition is funded in part by the University of Connecticut Human Rights Initiative.