January 20–March 6, 2009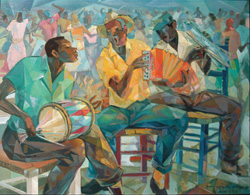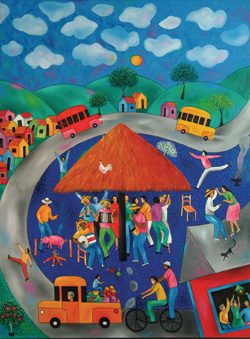 ¡Merengue! Visual Rhythms is the first exhibition to explore the historical role merengue has played as a fundamental cultural axis, a form of communication and a symbol in the visual arts of the Dominican Republic.
These forty works include paintings, works on paper, photographs, sculpture, video, and popular graphics that span the 20th century and examine the evolving artistic styles practiced by Dominican artists to celebrate the island's most important musical and dance form.
Tracing the tradition of merengue and its intersections with the visual arts, this exhibition translates the energy and festivity of the beloved national music through depictions of both traditional rural celebrations and more contemporary scenes. Ultimately, merengue is seen as a central element in the life and culture of the island. An illustrated timeline relates the featured art to important events in Dominican history.
This exhibition was organized by Centro Cultural Eduardo León Jimenes in Santiago, Dominican Republic, curated by Sara Hermann, and organized for tour by International Arts & Artists, Washington, D.C.
---