June 6 – August 9, 2009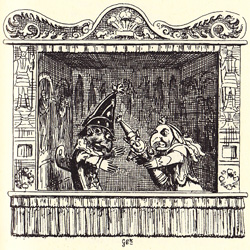 Punch and Judy have come to symbolize the world of puppet theater for many audiences on both sides of the Atlantic. Known for their comic antics and Punch's ever-present club, these puppets at first glance might appear to be benign and colorful entertainment for children. But a closer look at these twocharacters and their puppet brethren reveals a complex andoften contradictory world of comedy, mayhem, sex, violence, and politics.
Punch & Judy: Handpuppets, Politics & Humor explores the world of these classic characters and related realms of handpuppets and satire. It includes Punch and Judy handpuppet sets as well as Guignol and Kasperl puppets from France and Germany, and the Punch and Judy set used by the famed creator of queer theater, Charles Ludlam. In addition, there are handpuppets created by Rufus Rose to satirize Connecticut politicians, which Rose created while he was a Republican State Legislator and which he performed in the Connecticut State House.
This exhibition was curated by Ballard Institute and Museum of Puppetry director John Bell, with graduate assistants Stefano Brancato and Joseph Therrien.
---