November 4 – November 9, 2008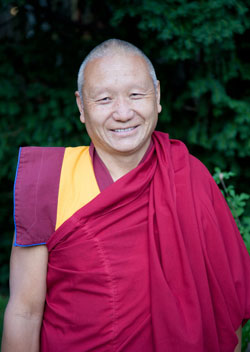 It's been five years since we've had visiting monks at the Benton! From November 4th through 9th, two monks from Namgyal Monastery, Thupten Woser and Lobsang Tashi, will be in residence at the Benton tocreate a Sand Mandala of Enlightenment in the East Gallery. During this time, the public is invited to attend the monks' morning prayers and meditation at 9 a.m. Tuesday through Friday.On November 5, at 12:15, former Benton Museum Director Salvatore Scalora will give a gallery talk about "The Making of a Mandala" while the monks work.Mandalas are intricate creations made by applying many different colored sands, grain by grain, to a particular design. They date back to the 6th century B.C.E. when, according to Buddhist tradition, the purpose, meanings, and techniques were taught by the Buddha Shakyamuni.
Once completed, the Mandala of Enlightenment will remain on view until Sunday, December 7, at 2 pm when, in a sacred, prayerful ceremony, the monks will sweep the colorful sands into an urn and disperse them into the waters of Mirror Lake. The dismantling of a mandala is regarded as a blessing on the area and a reflection of the impermanence of all things. Those attending the ceremony will receive a small packet of the sand for good health and healing.
---