October 21 – December 19, 2008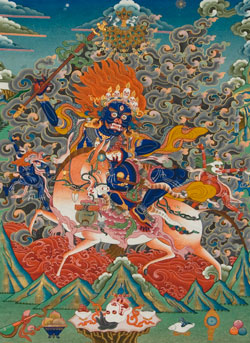 This exhibition features fabric art pieces from the collections of Peter Polomski and Richard Allen. Historically, the majority of Tibet's greatest art has been bound up with religion, and the most prominent traditions include tangkas, or scroll paintings of Buddhist and Bon divinities. Since very few Tibetans learned to read and write, tangkas have served as a pictorial lesson that the observer could remember through painted icons rather than printed script. Tangkas further provide an opportunity for meditation; by seeing and concentrating on the figures painted on the tangka, the practitioner strives for liberation or enlightenment through the act of beholding.
To complement and create a context for the tangkas and the sand mandala, several dramatic photographs of the Himalayan Mountains by Kenneth Hanson will hang in the East Gallery. They are images from his acclaimed book, Himalayan Portfolios: Journeys of the Imagination.
---