November 6 – May 23, 2008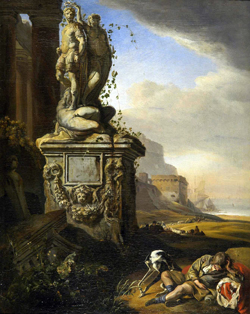 Between 1550 and 1650, Italian artists and the city of Rome were at the center of the European art world and, despite the rise of Paris and London in the eighteenth century, Rome remained the most important cultural center until about 1800. Rome was, above all, the source of the western European classical tradition, visibly manifested by the Roman architectural and sculptural monuments dominating the city. And there was the Italian landscape, especially the Roman Campagna, the lands stretching south and east of the city. The landscape and light of the Campagna inspired artists until the end of the nineteenth century. The city's warm climate, its exotic fruit trees, and its centuries-old history attracted Dutch, Flemish, French and German artists from the seventeenth century on, for no artist could avoid the weight of the classical tradition nor the landscape that Rome and Italy embodied.
Rome, Italy and Europe reflects the various ways the classical tradition and the Roman landscape influenced European art. In the visual arts, the classical tradition flourished in two ways: one, by the appropriation of classical architecture, monuments and sculpture as motifs into paintings, drawings, prints, and wall decoration, and two, by the stylistic influence of antique art directly or as it was filtered through the Renaissance and subsequent classicizing eras. An example drawn from the exhibition is the Benton's newly acquired painting Italianate Landscape with Sleeping Youth and Sculpture from the 1660s by the Dutch artist Jan Weenix (1642-1719). A youth with his dog has fallen asleep on his red cloak in the lower right. Behind the boy stretches a coastal landscape with distant buildings, one suggesting the Castel Sant'Angelo in Rome, ships, and a caravan approaching the shore. Dominating the left half of the canvas is a depiction of the ca. 1595 Apotheosis of Alessandro Farnese by the late Mannerist Italian sculptor Simone Moschino (1553-1610). Dark clouds hover above and, like most Italianate paintings, light plays an important role, softly illuminating the major parts of the work.
Light and water, as well as a classical temple, are important in the painting of an Italian garden about 1800, probably the Borghese Gardens in Rome, by Giovanni Maldurra  (ca. 1772-1849). Likely painted for the tourist on the Grand Tour, Maldurra's garden is suggestive of the beauty of the Roman garden but not necessarily of a specific place. Besides these paintings, the exhibition will feature works by, among others, Gerard de Lairesse, Hermann van Swanevelt, Jan Both, Benjamin West, James Watson and Johann Martin Schmidt. The antique tradition eventually waned in the late nineteenth century, but its legacy is as vibrant as ever.
---