Friday, April 29, 2016
5–7 pm (Reception at 5 pm; Panel Discussion at 5:30 pm)
WINE
LIGHT HORS D'OEUVRES
LIVELY CONVERSATION

Guerrilla Girls: Art Activism, & the 'F' Word
The Guerrilla Girls are still relevant after all these years. Is their message art? It is politics? Both? Join us in this exciting and timely dialogue.
"We try to be different from the kind of political art that is angry and points to something and says 'This is bad.' That's preaching to the converted. We want to be subversive, to transform our audience, to confront them with some disarming statements, backed up by facts — and great visuals — and hopefully convert them." The Guerrilla Girls
PANELISTS
Sharon Butler is a painter, an arts writer, and an influential art blogger of Two Coats of Paint, which has been sponsored by numerous arts organizations, including The Brooklyn Museum, The Guggenheim Museum, The Whitney Museum, New York Studio School, the School of Visual Arts, Creative Capital, and the Warhol Foundation. She is frequently sought after as a visiting artist/critic, and her work is shown regularly throughout the country, with exhibitions at such venues as NADA New York, Theodore:Art, Storefront Ten Eyck, Pocket Utopia, Union College (Schenectady, NY), Real Art Ways (Hartford, CT), SEASON (Seattle, WA), George Lawson (San Francisco, CA), and Matteawan (Beacon, NY). Butler is New-York based, and maintains a studio in DUMBO overlooking the Manhattan Bridge.
Mary Banas is visiting Assistant Professor in Residence, Communication Design, UConn. She received her MFA from the Rhode Island School of Design. Her specialties include conceptual approach, brainstorming, collaboration, strategy, typography, illustration, print, and publications. She has worked as a designer at The Hartford Courant,Yale Alumni Magazine, Group C. Inc., and John McNeil Studio in Berkeley, California. Mary's work and design commentary have appeared in the following publications: NeoGeo: A New Edge to Abstraction(Gestalten), Type Addicted (Victionary), and And We Forget About The Time: thoughts, suspicions, and ruminations on flow in graphic design (Better Days, Seoul/Brooklyn).
MODERATOR
Cora Lynn Deibler is Professor of Illustration and Department Head of Art and Art History at UConn. She specializes in editorial and children's illustration and maintains a blog called Brainspillage! Her work has appeared in countless publications including Cricket and Spider magazines for young children. Among her many awards, she has been recognized by How magazine, Print, The New York State Press Association and RSVP's annual illustration competition. She participates in shows at the Society of Illustrators Museum of American Illustration in New York City, has served as a long time member of their Educators Symposium Committee and currently serves on the Society's Education Committee. Her work appeared in "Women in Illustration: Contemporary Visions and Voices" and in "Picturing Health," both at the Norman Rockwell Museum in Stockbridge, MA. She currently serves on the Board of the Low Illustration Committee at the New Britain Museum of American Art and as Chair of Communications for the National Council of Arts Administrators.
See what attendees say about the Salons here.
—————————————————————————————-
*Admission to the Salon is free. Donations are gratefully accepted.
RSVP appreciated by April 27. Click on RSVP link or call 860-486-5084.
Please visit www.benton.uconn.edu for more information.
—————————————————————————————-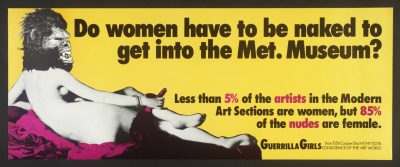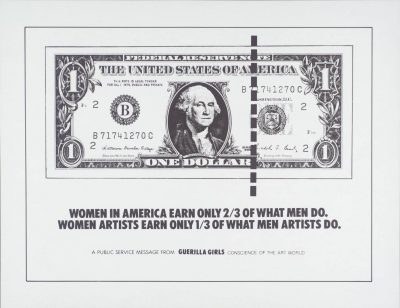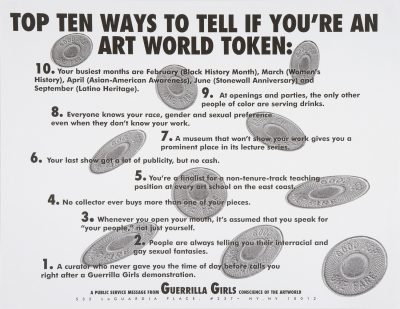 Credit: Guerrilla Girls Posters.  Museum purchase.
---