May 31-August 7, 2011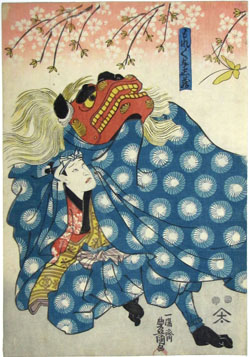 The colored woodcut was ubiquitous in 19th-century Japan, and for Europeans a source of artistic influence and of pleasure in collecting them. The late 19th-century artistic influence of the woodcut lay in its disavowal of Western perspective, an ingrained facility for two-dimensional patterning, and an unwavering sense of coloration. The pleasure of collecting the color woodcuts in the late 19th and 20th centuries lay in a more profound interest in Asian arts, Chinese as well as Japanese, than had been expressed by the decoratively brilliant but very western Chinoiserie of the 18th century.
Serious collecting of Japanese woodcuts in the West began in the late 19th century, followed closely by scholarship aimed at organizing, identifying, and researching the objects in these collections by artists, schools, periods, styles, and subject matter. In the last three to four decades of the 20th century, however, the basic cataloguing of collections was superseded by a broadened interest in the cultural contextualization of the prints in the totality of Japanese society of the 18th and 19th centuries. The beauty, technical facility, and historical place of the Japanese colored woodcut are, perhaps, no more appreciated now than in the past, though it is arguably more broadly understood today.
Two of the most important centers of woodcut production were Edomodern-day Tokyoand Osaka. Osaka was famous for its theaters, actors, and plays, and in the 19th century a market for colored woodcuts depicting popular actors and familiar scenes from the Kabuki theater flourished. It was Osaka theater prints that comprised the George Lincoln bequest to the Benton in 2005, a gift that became a new area of collecting for the Museum. Since then the Museum has added new works to the Lincoln collection and has expanded the range of subjects to include the female beauties that were so popular in Edo prints.
One important genre of 19th century colored woodcut production that has yet to be represented in the Benton collections is the landscape. Landscape was as significant as the beauties and the actors, and the very generous loan to this exhibition of landscape prints as well as selected others from the collections of St. Joseph's College (West Hartford, Connecticut) has enabled the Benton to present a fuller and more rounded cross-section of work from this era. Regardless of how one views the beauties, the actors, and the landscapesas cultural artifacts or artistic landmarks in this exhibition, they hold our attention, broaden our knowledge, and, above all, add immeasurable beauty to our daily lives.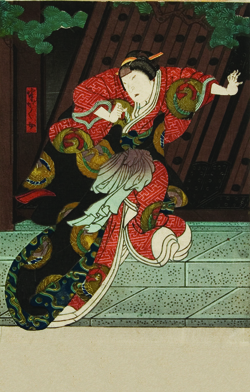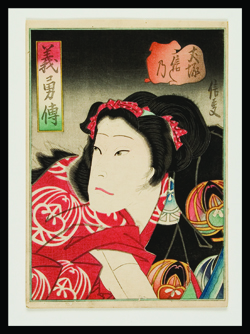 ---