May 31-August 7, 2011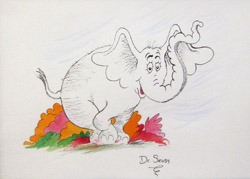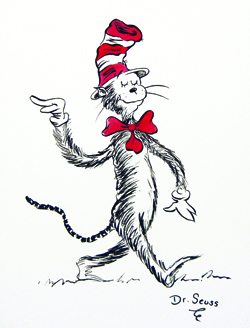 In collaboration with the Connecticut Repertory Theatre production of "Seussical: The Musical" (June 16 -26), the Benton Museum will present a retrospective of works by "America's favorite illustrator," a small but comprehensive exhibition of rare original works by Ted Geisel, a.k.a.
Dr. Seuss. This engaging collection showcases some of his earliest sketches of the Cat in the Hat and Horton the Elephant, and shows how his iconic and beloved characters evolved during his lifetime.
The exhibition includes published illustrations, political cartoons, sketches, drawings, sculpture, prints, and whimsical paintings created in the artist's later years, along with panels, labels and music from some of the most popular animated treatments of "The Grinch," "Horton Hears a Who," Seussical, and "Gerald McBoing Boing."
The Art of Dr. Seuss brings together loans from private collections and Animazing Gallery in New York.
The William Benton Museum of Art thanks Hamilton Sundstrand for their support of The Art of Dr. Seuss and Animazing Gallery for their generosity in lending all the works in this exhibition.
---