January 25-March 20, 2011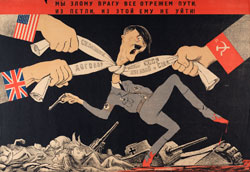 Views and Re-Views is an exhibition of Soviet-era political posters and cartoons dating from 1919 through the 1980s. Within the broader scope of visual propaganda administered by Soviet Union officials, these works were selected to emphasize the theme of friends and enemies, a concept that pervaded Soviet society. Rendered in bold blacks, yellows and reds, the works feature heroic workers, Bolshevik leaders and soldiers towering robustly while caricatured capitalists, monarchists and clerics wickedly strut and skulk. More than an opportunity to condemn extremism of a bygone era, Views and Re-Views invites viewers to contemplate the works with a mind to past and current political climates in which rigid ideologies are formulated and disseminated.
This exhibition was curated by Jo-Ann Conklin, director of the David Winton Bell Gallery at Brown University, and Abbott Gleason, a member of the administration and faculty of Watson Institute for International Studies at Brown University and professor emeritus at Brown University.
---