June 3 – August 10, 2008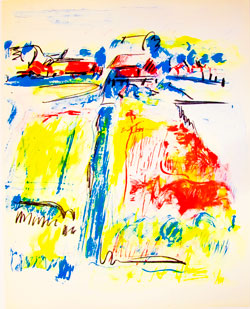 Although lithography after World War II was generally considered a commercial medium, between 1958 and 1960 three new lithographic workshops opened that sought to re-create lithography as an artistic medium. In 1958 ULAE on Long Island, Collectors Graphics in New York city in late 1959, and Tamarind in 1960 in Los Angeles. Of the three, Collectors Graphics had the briefest run, only until early 1963, but an interesting technical history and in its roster a cross section of well-known and, today, lesser-known artists of the period.
In 1959, the painter Reginald Pollack (1924-2001) met Jules Sherman the owner of a commercial lithographic firm in Manhattan. Pollack had studied lithography in Paris after the war and, when he returned to New York city in the late 1950s, his interest in medium continued, and he found a sympathetic partner in Sherman. Their idea was to provide artists with the means to create original lithographic prints with no photomechanical aides, to publish them in limited editions at low cost to the collector, and to do so without the artist having to use heavy and cumbersome lithographic stones. Sherman's commercial workshop would be available on weekends to provide the tools and means for artists to make lithographic prints.
The greatest difficulty they faced was finding a suitable substitute for the lithographic stone. There were many failures until the solution came to Sherman in the middle of the night: Use a flexible, plastic impregnated paper that was commercially available although usable only for short runs. Initially the sheets were too small, however, once Sherman had a supply of larger sheets, he could give the artists a matrix on which they could draw using any suitable crayon or ink and from which he could print the image. The completed lithographs were printed very slowly on an offset press, and despite a planned editions of seventy-five to one hundred impressions, the plates frequently failed and the run ended after only fifty to sixty finished examples.
According to Jules Sherman, Collectors Graphics was never a commercial venture, and the driving force that held it together artistically was Pollack. When Pollack left New York city for Virginia in 1963, the artistic impetus was gone and the workshop closed its doors in that year.
This exhibition, drawn from a larger gift of eighty-five lithographs, highlights the accomplishment of these artists who ventured into new artistic territory. The brief history of Collectors Graphics is the sum of these works, and a history worth recording. The artists are interesting, the works they did are of high quality, and Collectors Graphics is a part of the history of the rediscovery of lithography in America as an artistic medium for the creation of original works of art.
---