H. Fred Simons African American Cultural Center:  Celebrating 50 Years of Service and Activism
October 25 – December 16, 2018
The Benton salutes UConn's H. Fred Simons African American Cultural Center upon its 50thanniversary with an exhibition of photographs by Danny Lyon. As staff photographer for the Student Nonviolent Coordinating Committee (SNCC) from 1962 to 1964, Lyon documented the leading role of young people in the struggle for civil rights.
The SNCC was founded during the spring of 1960 on the campus of Shaw University in Raleigh, NC by a group of young activists who had spearheaded the sit-in movement that challenged racial segregation in public spaces across the south. The group quickly evolved from a protest organization coordinating sit-ins and Freedom Rides (bus trips to protest segregated bus terminals) into an association of grassroots organizers who promoted nonviolent direct action and registration of African-American voters by embedding themselves in rural communities, primarily in Alabama, Georgia, and Mississippi.
When Danny Lyon (born 1942), a white New Yorker, hitchhiked from Chicago to Cairo, IL in July 1962 to photograph demonstrators protesting at a segregated swimming pool, it was the summer before his senior year at the University of Chicago. The fledgling photographer met John Lewis, then SNCC field secretary and now a longtime member of the US House of Representatives, who encouraged Lyon to become more involved in the civil rights movement. Lyon traveled farther south that summer and made photographs in Albany, GA. Soon SNCC executive secretary James Forman recruited Lyon to become the organization's official photographer.
Lyon's photographs document signal events of the civil rights movement, such as the bombing of the Sixteenth Street Baptist Church in Birmingham, AL. They also show lesser-known incidents, like the protest in Cairo, which fundamentally impacted local communities, even if they did not make the national news. The photographs are accompanied by Lyon's own observations, which he published in a 1992 memoir, Memories of the Southern Civil Rights Movement.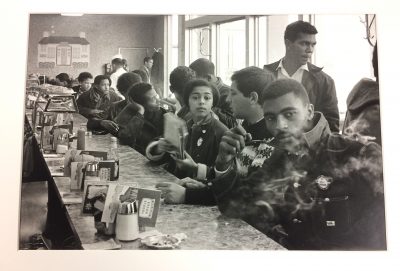 Image Credit:
Danny Lyon (American, born 1942), A Toddle House in Atlanta has the distinction of being occupied during a sit-in by some of the most effective organizers in America when the SNCC staff and supporters take a break from a conference to demonstrate, 1963. Gelatin silver print, William Benton Museum of Art, Gift of Sheldron and Helen Seplowitz.