August 31 – October 15, 2017
Opening Reception – Thursday, August 31, 2017,  4:30-7:00 pm.
FREE & Open to the Public.
Professor Dancy will give a Gallery Talk about her work at 4:30pm.
A retrospective exhibition.  Recently retired from the University, Deborah Dancy was on the faculty in the Department of Art and Art History at the University of Connecticut since 1981.  Deborah Dancy is a painter whose abstract work describes odd invented spaces and stacked structures. Subtle tonalities and fragmented lines become descriptive markers in work that suggests familiar yet ambiguous spaces. Dancy works in a variety of mediums, large-scale oil paintings, mixed media on paper, printmaking and artists' books. She has received a number of significant honors and awards, including: a John Simon Guggenheim Foundation Fellowship, Connecticut Commission of the Arts Artist Grant, New England Foundation for the Arts/NEA Individual Artist Grant, Nexus Press Artist Book Project Award, Visual Studies Artist Book Project Residency Grant, The American Antiquarian Society's William Randolph Hearst Fellowship, YADDO Fellow, and Women's Studio Workshop Residency Grants and a Connecticut Book Award Illustration Nominee for her mixed media work in the book, The Freedom Business.
She has exhibited in numerous museums and galleries and her work is represented by Sears-Peyton Gallery, New York, and N'Namdi Contemporary, Miami.
For more information about Deborah, visit http://www.deborahdancy.com.
The Thomas J. Dodd Research Center has shared a 1986 interview with Deborah Dancy from their collection:
The Black Experience in the Arts Collection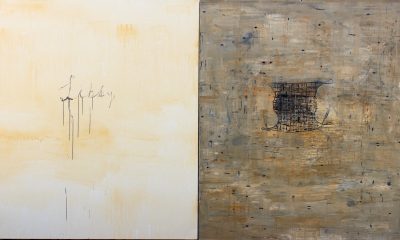 ---