March 24 – May 22, 2016
Opening Reception March 24, 4:30 – 7 pm.
Founded in 1985, a group of female artists joined together to form the Guerrilla Girls, an art activist group devoted to protesting the under-representation of female artists in many of the world's most prominent art museums. Since then, they have grown into a large organization that continues to fight for gender and racial equality in the arts by exposing and questioning the status quo. Through a mixture of comedy, facts, and shock, they design and put up posters for the sake of art activism and their mission of 'redefining the F-word: Feminism!' This exhibition features a collection of works from the museum's newly acquired Guerrilla Girls Portfolio Compleat (1985 – 2012), and seeks to shed light on the group's revolutionary and evolving tactics that have allowed them to combat racism and sexism in the arts and to positively affect art her-story.
April 6, 5 – 6:30 pm: Guerrilla Girls Gig – Watch a full recording of this event!
Join the Guerrilla Girls for an exciting and thought provoking evening.  For years, the Guerrilla Girls have been stirring up audiences with their presentations and workshops in full jungle drag. They have appeared at schools, museums and organizations of all types, in almost every state in the U.S. and on almost every continent.
Their performance will take the audience through their history and the ideas behind their activism tools. How they came up with some of their many, many posters, books (The Guerrilla Girls Bedside Companion to the History of Western Art, Bitches, Bimbos and Ballbreakers: The Guerrilla Girls' Guide to Female Stereotypes, The Guerrilla Girls' Hysterical Herstory of Hysteria and How It Was Cured, From Ancient Times Until No) and actions about discrimination in art, film, politics, etc. Meet the Guerrilla Girls and bring your questions!
April 29, 5 – 7 pm: Salon at the Benton, Art and Conversation
Panel Discussion engaging with the audience on Art, Activism and the "F" word. Is it still relevant today? Panelists: Sharon Butler & Mary Banas. Moderated by Cora Lynn Deibler.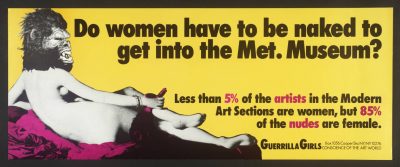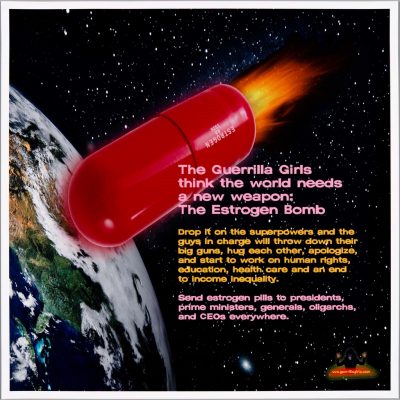 ---