January 21 – March 30, 2014

Making the Movement Move: Photography, Student Activism, and Civil Rights highlights the powerful images of Ernest Withers and Danny Lyon, two prominent photographers active both as observers of and participants in the Civil Rights Movement of the 1950s and 1960s. This exhibition considers the multifaceted ways visual images contributed to the efforts of young civil rights activists who daringly challenged the status quo.
Making the Movement Move was organized in collaboration with Professor Michael Orwicz's independent study course and is made possible with generous support from Connecticut Humanities; Sheldron and Helen Seplowitz; Human Rights Institute, UConn; University of Connecticut Humanities Institute; Thomas J. Dodd Research Center, UConn; and Michael Lee, Lee Gallery.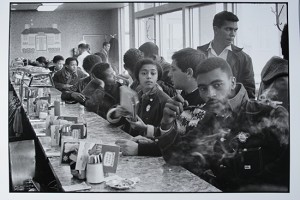 ---