June 4-August 4, 2013
A continuation of From Old Masters to Revolutionaries, this exhibition introduces some of the Benton's newest acquisitions including a painting by Mike Bayne and a mixed media portrait by Keun Young Park, both active contemporary artists. They join the illustrious company of Dieter Roth, Willem De Kooning, and Richard Diebenkorn. Also exciting about this exhibition are the number and types of photographs on display. From the overtly political images of Sebastio Salgado and Graciela Iturbide to the aesthetic beauty of Candida Hfer or Shimon Attie's site-specific projections, the photographs in this exhibition demonstrate the versatility of the medium and invite viewers to question its objectivity and truthfulness.
Art speaks! Tell us what you hear. As part of this exhibition, visitors are invited to share their responses to selected works on display. Paper and pencils will be provided so that guests can write a caption, tell a story, or just get creative. Visitors are welcome to post their contributions in the gallery and become part of the exhibition themselves.
Mike Bayne (Canadian, born 1977) Untitled [station wagon], 2008. Oil on panel. The Esther and James Barnett Fund for American Paintings and Directors Fund. 2012.22

Yasumasa Morimura (Japanese, born 1951). Daughter of Art History (Little Princess A), 1990. Chromogenic print. Contemporary World Art Fund. 2003.26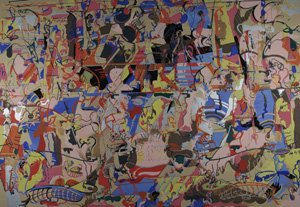 Dieter Roth (Swiss, 1930-1998). Daheim (At Home), 1970. Color silkscreen. Contemporary World Art Fund. 2012.20

Shimon Attie (American, born 1957). Behind Piazza Mattei, On-location slide, 2002. Lambda print. Contemporary World Art Fund. 2005.26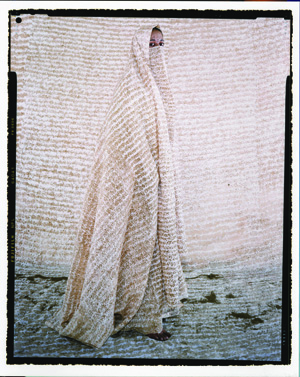 Laila Essaydi (Moroccan, born 1956). Converging Territories #2, 2003. Chromogenic print on aluminum. The Louise Crombie Beach Memorial Fund. 2006.11
Richard Diebenkorn (American, 1922-1993). Untitled, 1977. Charcoal on graph paper. Purchased with the Aid of Funds from the National Endowment for the Arts and Contributions from Alumni to the University of Connecticut Alumni Association Annual Giving Program. 1979.19.2
Frank Stella (American, born 1936). Swan Engraving VI, 1982. Intaglio and relief-printed etching. Gift of Howard Ganek. 2012.33
---