June 2-August 5, 2012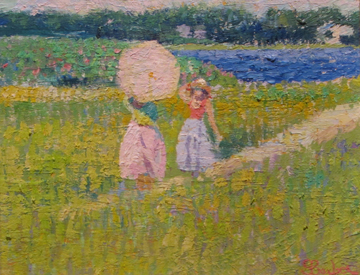 Four Seasons takes visitors on a visual journey through the diverse scenes and activities that characterize a year. Drawn from the Benton's collection of late 19th- to late 20th-century American art, the works in this exhibition reflect the artists' enduring interest in the surrounding world and a lasting tradition of defining American identity in time and place. Among the featured artists are Reginald Marsh, Maurice Prendergast, Winslow Homer, and Fairfield Porter.
American fascination with the landscape has generally expressed itself in rural settings, but the urban environment has provided inspiration as well. Spring in the City, a wood engraving after Winslow Homer, offers one example. Although Homer is best known for his seascapes, he began his career as an illustrator working in New York City. Originally published in the April 17, 1858 issue of Harper's Weekly, Spring in the City is an urban scene and among the earliest works included in the exhibition. It is joined by five other Homer wood engravings also from the famous New York journal.
Outdoor editorialist Hal Borland wrote, April is a promise that May is bound to keep, a sentiment embodied in Frank Alfred Bicknell's painting April Morning (ca. 1920s). It transforms the hope for warm days into pastel tones. In Unfolding Year (1924), Carleton Wiggins presents his version of springtime optimism in the form of a flock of sheep grazing in a verdant pasture. Landscape (1891) by Robert William Vonnoh has the warm tones of a summer afternoon, with strong sun and saturated colors. The same attention to the effects of light on the landscape during a long summer's day appears in Sunset and Lilies (1960) by Fairfield Porter.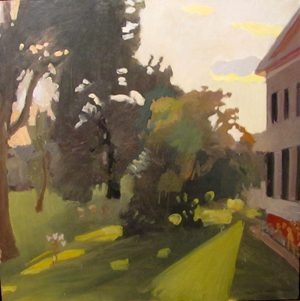 "Autumn is a second spring where every leaf is a flower," remarked Nobel Laureate Albert Camus, and many artists have shared his delight in the beauty of the fall season. Among them is Maurice Prendergast, whose watercolor Early Fall, New Hampshire (ca. 1912) is dominated by brightly colored trees that dwarf both the houses and the horse and carriage that compete for the viewer's attention. The rich reds and deep oranges that characterize Landscape (ca. 1890) by William Louis Sonntag remind us of the warmth of an autumn day.
In the painting Mantle of Winter (1924), Guy C. Wiggins, son of Carleton Wiggins, depicts the solitary and mysterious nature of winter. The painting mimics a thick layer of snow that covers the countryside revealing the contours of the land but not what lies beneath. Contemporary artist Lori Nix, who credits 19th-century landscape painting as an important influence, reflects on the dangers of winter in her photograph Ice Storm (1999). The subject here is not an actual landscape, but a constructed scene built from models and miniatures.
The four seasons have been an artistic theme dating back to the Middle Ages. It speaks to the yearly renewal of the natural world and the cycle of human experience.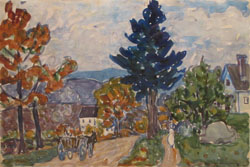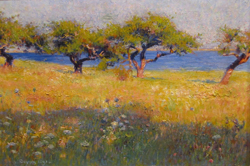 ---