January 17-March 11, 2012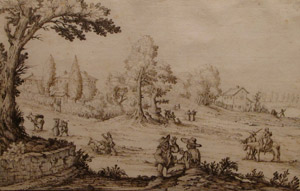 The works chosen for this exhibition fall into thematic groupings that reflect the strengths in the Benton's collections and relate to a variety of programs on the spring schedule.
Ellen Emmet Rand's life-size portrait entitled The Singer complements a Sunday afternoon performance of French vocal music on February 19 and Ben Wilson's 1943 painting Warsaw Ghetto Uprising is meaningful in conjunction with the January 22 musical program Noch frei in der Kunst!
A selection of landscape views from the 19th and 20th centuries comprises another thematic grouping. These works range from the classical, ca. 1810, Borghese Gardens painted by Giovanni Maldurra, to Karl Bodmer's 1850s naturalistic Barbizon forest on the outskirts of Paris, Stephen Parrish's charcoal and pencil drawing of the moonlit coast of Marblehead (1880s), and George Bellows vibrantly colored painting of the island of Criehaven off the coast of Maine, ca. 1915.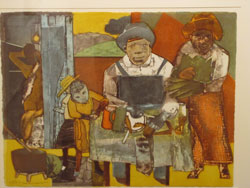 The Benton's old master collections are represented by a selection of Southern European works dating from the late 16th century to the very early 18th century. Italian and French drawings, French, Italian and Spanish etchings, and Italian sculpture are the principal focus of this group of works. Some are anonymous such as the terra cotta sculptures, but others are firmly attributed to artists like the Frenchman Phillipe Verdier or the Italians Ercole Bazzicaluva and Remigio Cantagallina.
A recently acquired rare and early lithographic figural work from 1952 entitled Despair by the African American artist John Biggers will be exhibited together with a selection of other works by African American artists.
And finally, among the many other new acquisitions included in this exhibition are photographs by Andreas Feininger (1906-1999), who was most famous for his photographs of New York City in the 1940s and 1950s.
---