April 12-May 8, 2011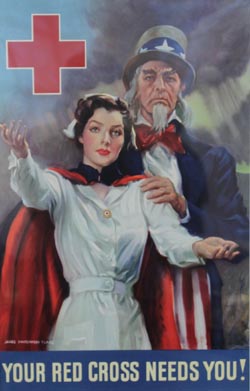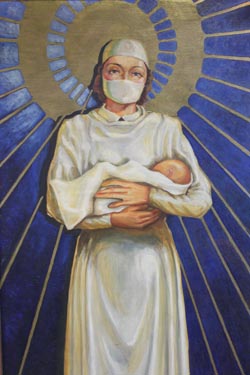 Since the First World War, the American Red Cross has been using posters to educate the general public about its disaster relief efforts overseas and on the home front and to generate support for services like nursing, health and safety training, and fundraising. Posters were circulated and displayed nationwide, and sought to rally volunteers into action with the use of such cultural icons as the Red Cross Nurse, the Greatest Mother, and even Uncle Sam, figures that became synonymous with the Red Cross's humanitarian activities.
Posters such as those in this exhibition were typically reproduced from a single original work done in oil, pastel, or charcoal. Leading artists and illustrators of this medium include Howard Chandler Christy, James Montgomery Flagg, Norman Rockwell, and N.C. Wyeth.
The exhibition includes newspaper and magazine illustrations after Thomas Nast (1863), Charles Dana Gibson (1903), and Stevan Dohanos (1949) that emphasize the nurturing role of the nursing profession and posters from the First and Second World Wars that seek to recruit women into nursing to aid the war efforts or appeal to the patriotic role of the nurse. Among them are works designed by Albert Sterner (1918) and James Montgomery Flagg (ca. 1943).
This exhibition honors Josephine Dolan, the first professor of the School of Nursing at the University of Connecticut and the collector of these works. The exhibition coincides with the April 13th groundbreaking for the new 15,800 square-foot Widmer Wing of the UConn School of Nursing on the Storrs campus.
---