January 22 – March 30, 2008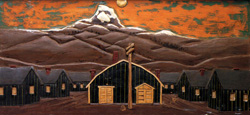 In Japanese, the word gaman means, "enduring the seemingly unbearable with patience and dignity."  This exhibition is based upon a ground-breaking book (The Art of Gaman, Ten Speed Press, 2005) by Delphine Hirasuna, who is the exhibition's guest curator. It presents arts and crafts made by Japanese and Japanese Americans who were interned in concentration camps in California, Wyoming, Arizona, Utah, Idaho, Colorado, and Arkansas during World War II. The exhibition features nearly 200 objects made primarily from scrap and found materials by those detained in the camps and gives a sense of the full range of artistic activities that existed within the internment camps that saw the forced relocation of 120,000 Japanese and Japanese Americans. The exhibition also demonstrates the resiliency of the creative spirit—how human beings are able to create objects of beauty and meaning with humble materials and under the most difficult circumstances.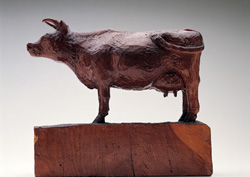 This exhibition is based upon the book The Art of Gaman: Arts and Crafts from the Japanese American Internment Camps 1942-1946 by Delphine Hirasuna (Ten Speed Press, 2005) and was first held at the San Francisco Museum of Craft and Folk Art. The touring exhibition has been organized by the William Benton Museum of Art, University of Connecticut, and the Oregon Historical Society in collaboration with the National Japanese American Historical Society. The Benton presentation is made possible with the support of the Connecticut Commission on Culture and Tourism and the Nathan Hale Inn and Conference Center, and in partnership with the University of Connecticut Asian American Cultural Center, Asian American Studies Institute, and the Foundations of Humanitarianism program.
---