January 22 – March 30, 2008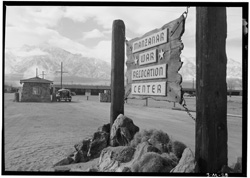 In 1943, distinguished American photographer Ansel Adams (1902-1984) captured through his lens the individuals, daily life, work, and pastimes in the Manzanar War Relocation Center, located at the eastern edge of the Sierra Nevada mountains, approximately two hundred miles northeast of Los Angeles. Of his photos, Adams wrote when he offered the collection to the Library of Congress in 1965, "The purpose of my work was to show how these people, suffering under a great injustice, and loss of property, businesses and professions, had overcome the sense of defeat and dispair [sic] by building for themselves a vital community in an arid (but magnificent) environment…. All in all, I think this Manzanar Collection is an important historical document." While criticized by some for their beauty and seeming cheerfulness, the photographs chronicle the lives and activities of the camp that eventually held more than 10,000 prisoners.
This documentary installation of contemporary prints is drawn from the extensive digital holdings of the Library of Congress; it is exhibited in conjunction with The Art of Gaman, further contextualizing the experience of the Japanese American internees. The photographs in this exhibition are contemporary prints from "Suffering Under a Great Injustice: Ansel Adams's Photographs of Japanese-American Internment at Manzanar," in the Prints and Photographs Division at the Library of Congress.
---