September 8 – December 16, 2007
The visual arts in France from the late nineteenth to early twentieth centuries were varied, innovative and revolutionary, profoundly changing the course of art after 1900. Auguste Rodin (1840-1917) created his sculptural masterpieces in this era and, as a complement to the exhibition of his sculpture, 15 works by his contemporaries will be exhibited on the Balcony Gallery.
These include Théodule Ribot's dramatically dark and realist painting, Portrait of an Old Woman, dating to about 1880. Aged Spaniard by Alphonse Legros and the lithograph The Firewood Gatherers by Camille Pissarro likewise reflect the visual and social realism of the era. Their counterparts of the natural world are the naturalistic landscapes of Adolphe Appian, Eugène Blery and Karl Bodmer. Conversely, Félix Buhot's etching, L'Hiver de 1879 à Paris, is a stark image of the ravages of a brutal winter in Paris.  The last decades of the century saw the development of a countervision to realism in the Symbolist and Art Nouveau movements. Henry Somm's Girl Riding a Carp, ca. 1895, is both whimsical and Symbolist, while Edmond-François Aman-Jean's Girl Holding Her Head evokes the sinuous line of the Art Nouveau style.
No matter how a historic period is stylistically categorized, that era is never simple, nor is it one-dimensional. The swirl of styles and subjects in late nineteenth-century France is testimony to the complex artistic milieu in which Rodin worked.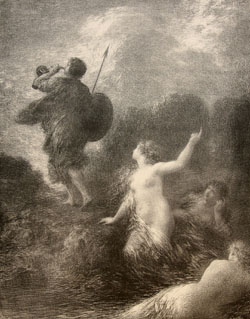 ---