The Guna people have a special interest in sports contests. The Guna men go to the cities to watch sports competitions and carry home graphics of the various sports. The Guna women may then use these designs on their stitched blouses. Team sports such as basketball, baseball, volleyball, and soccer become the subject of a mola. Much time is spent on the ocean, fishing or journeying back and forth to the mainland or from island to island in dugout canoes. These water activities are shown on many molas. Sometimes a sports pattern is unique, but more often it will have been copied from another woman's original design.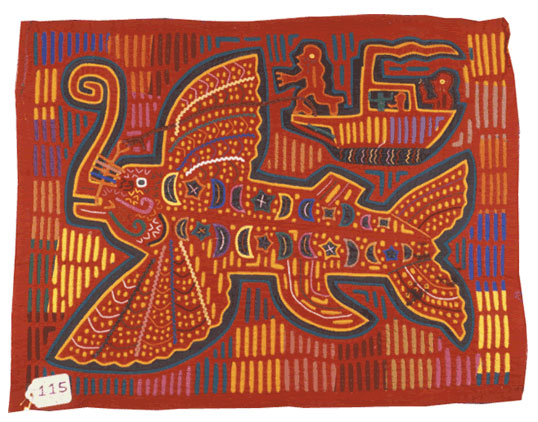 A Fisherman Hooks a Large Flying Fish [1997.1.88]
This mola is a rendition of a fisherman hooking a flying fish. It is sewn with vibrant colors and a well-coordinated design.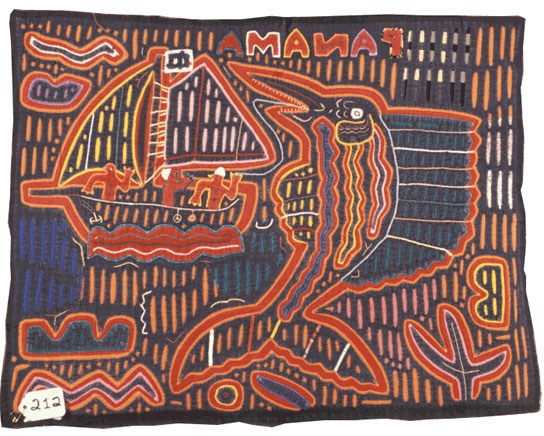 Sailboat and Sailfish [1997.1.92]
This old mola says "Panama" in backward lettering at the top. It shows the popular sailfish and a sailboat. The fish has been hooked right in his sharp-toothed mouth. This mola dates to the 1960s.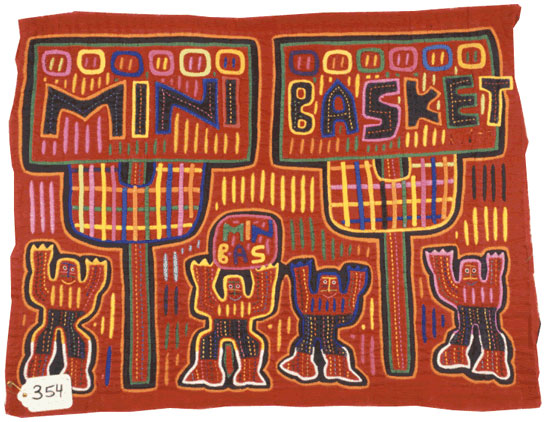 Basketball Game [1997.1.153]
This mola depicts a basketball game between two teams. Basketball is a popular sport in the San Blas Islands.
Distilled into this primitive design is the essence of the game.
It is interesting to compare the differences among molas of the same subject. Although patterns may be basically similar, they can according to the individual mola-maker's whim, vary widely in style and treatment.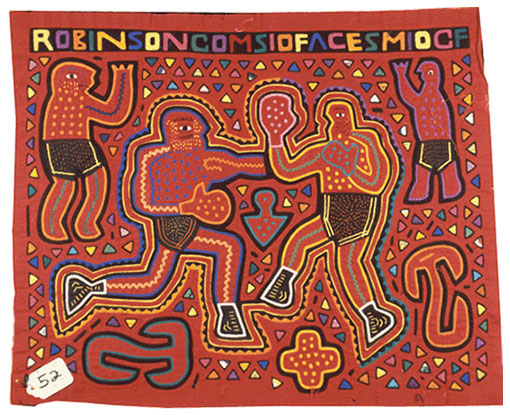 Boxing Match: "Robinson Comes of Age" [1997.1.155]
The design for this mola originated during "Sugar Ray" Robinson's reign as the world's boxing champion. The caption indicates that the source was probably a news photo from an English-language publication. It is interesting to note that much of the action-packed contest has been preserved in this appliquéd handiwork. Molas depicting boxing matches were extremely popular in the 1970s.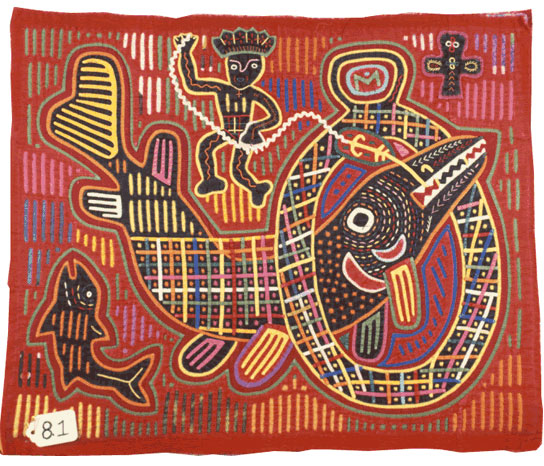 Fish Caught in Net [1997.1.102]
This mola shows a large fish caught in a large, decorated net. The top center section of the mola depicts a native fisherman hooking the fish in the mouth. Note that the net itself is depicted with a type of crisscross pattern which is a technique. On many molas, the rickrack of the line going into the fish's mouth would have been hand-sewn and tucked. The rickrack here is of the commercial variety, which is easier to put on and less time-consuming to sew.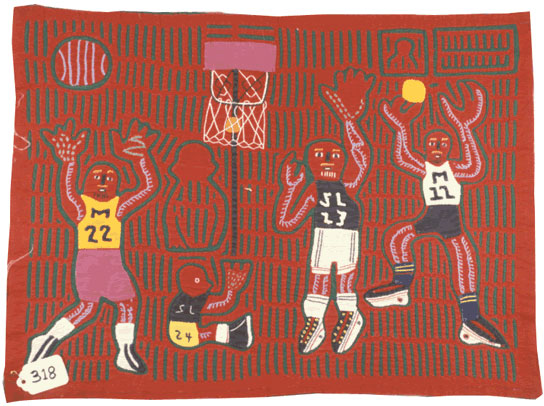 Four Basketball Players [1997.1.154]
This mola shows four basketball players; one is sitting while the other three toss a ball. You can see their numbers, Team M with 12 and 22 and Team SL show 23 and 24 embroidered on them. The red and green color choice for the background and foreground is unusual in a mola. The basket is nicely depicted and although a rather crude mola.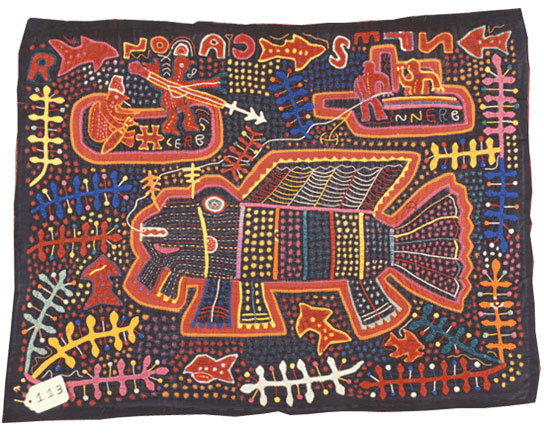 Large Flying Fish Hooked by Fisherman in Boats [1997.1.91]
This is a large mola probably dating from the 1950s. It shows a popular design of that period that was often copied. It is a neatly conceived version showing a large fish that has been hooked by one fisherman in a boat, while in another boat there is a man paddling close and about to launch a harpoon at the fish. The lettering "Pes Canoa" at the top means a fishing boat.