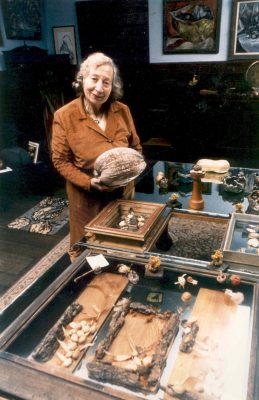 February 1 to March 11, 2022
In April 1972, Old Lyme artist Elizabeth Tashjian (1912-2007) opened on the ground floor of her Victorian mansion a museum devoted to nuts. The Nut Museum operated until 2002 and featured Tashjian's nut paintings and sculptures, as well as a collection of nuts, nutcrackers and nut-related memorabilia.
This exhibition celebrates the 50th anniversary of the Nut Museum's opening. Curated by Connecticut College Art History professor Christopher Steiner, the exhibition recreates the Nut Museum's main exhibition gallery, with all of its original furnishings, art and displays. It also features a retrospective of Elizabeth Tashjian's paintings and sculptures, as well as a video compilation of her media appearances (The Tonight Show Starring Johnny Carson, David Letterman, Jay Leno, and Howard Stern) on national television. Under Professor Steiner's stewardship, Connecticut College was entrusted to preserve approximately 150 paintings, 200 drawings, 20 sculptures, 100 boxes of documents and photographs, and all furniture and displays from the museum portion of the house.
Although the Nut Museum's original mission was to highlight the beauty of nuts as depicted in Tashjian's art, the museum's scope soon expanded. "As creator and curator of the Nut Museum, I became aware that some people …[are] considering themselves to be a nut," said Tashjian. "So, my motives changed. I set out to remove the demerit marks from the word 'nut'. My painting then used the power of art to make social commentary."
PROGRAMS:  RSVP via Zoom links
Thursday, February 10, Drawing Workshop with Nut Themed Still Life
Thursday, February 17, Saving the Nut Museum and Other Nutty Adventures in Art History
                                           with Guest Curator Christopher Steiner
Tuesday, March 1, Film Screening of In a Nutshell
Tuesday, March 8, Art & Artifact: Collecting in Practice, an interactive workshop.
Artworks by Elizabeth Tashjian