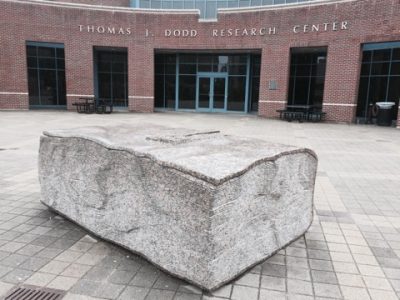 Stone Book Universe
Anna Maria Kubach-Wilmsen and Wolfgang Kubach, 1995.
The green granite used in this sculpture was quarried in Finland and carved in Italy. The finished sculpture weighs 12 tons. It was purchased by the University of Connecticut as part of the State's 1% for art program.
"In thinking about a proposal for the Plaza in front of the Archives Research Center, University of Connecticut, we first tried to imagine the human wisdom inside the building, the history of men, written in books and stored in relicts of now and long ago. For it to be a project in relation to all the books, that contain spiritual history and development of mankind inside the Library Archives. While thinking perhaps of a blue stone, we found a big brown Finland Granite. This stone had a very special structure of huge numbers of dark balls surrounded by green circles. The spheres in the stone volume appeared to us like a micro-universe and we both fall in love with it. Finally we remembered the landscape of Connecticut with the many erratic blocks all over and under the surface of the ground. They made us think about the cosmic history of this environment. So we had the idea to create a big stonebook for the library Plaza. 
During the first two months the work was very rough. We used hammer and chisels to release the stones "BOOK" out of the natural broken stoneblock. In the second phase of realization we used electric grinding machines, to shape the surface of the book-block. 
In the end – process from stone-block to stone-book: Wolfgang did the finish grinding with water and diamante-discs and Anna worked the composition of the foliage. Towards the end of our struggle with the resistance we started to touch it, and found, that it looked like a sculptors' prose.  We called it Stonebook Universe."
Until Wolfgang's death in 2007, this husband and wife team were active as both stone carvers and installation artists. They specialized in carving scrolls and books using stones carefully selected from quarries across the world that were specifically prized for their varieties of color, veining and density. "A book is held by the hand and read with the eyes. A stone book is held by the eyes and read by hand" - quote by Anna Maria Kubach-Wilmsen.
More: https://tinyurl.com/aboutKubach