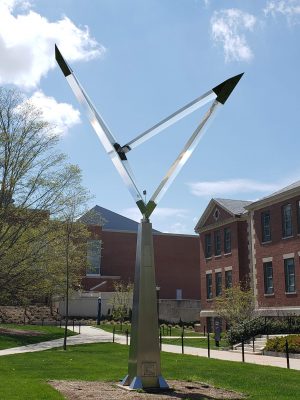 Mobius Solaris
Robert Perless (and assistant Stephen O'Brien), 1995.
Stainless steel and acrylic polymer prisms.
Commissioned by The Connecticut Commission on the Arts.
It is based on the Mobius form (three edges, single plane, which reflects light through prisms). This sculpture contains a heliostat which tracks the sun and rotates the sculpture constantly reflecting sunlight through the prisms. The artist states his work "is really about what you don't see; the energy latent in the work itself".
More: https://www.perless.com/index2.html