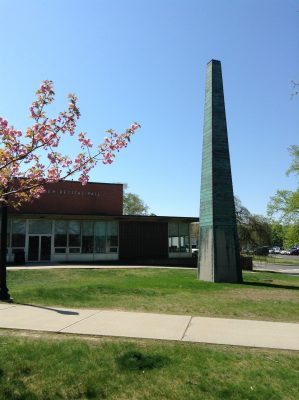 Copper Tower
Jackie Ferrara, 2000.
Copper and Concrete.
Commissioned by the State of Connecticut, Department of Economic and Community Development, Connecticut Office of the Arts. Ferrara is best known for works comprised of wooden pyramid/ziggurat-type construction. This sculpture is copper sheathed and is 43' tall with a mesh at the top to detract birds and other animals from entering. It was brought here and installed all in 1 piece. Ferrara was aware that outside elements would change the color.  She notes that "rain and snow hitting the copper causes patina to slide down. The color of the concrete is slowly turning green".
More: https://en.wikipedia.org/wiki/Jackie_Ferrara