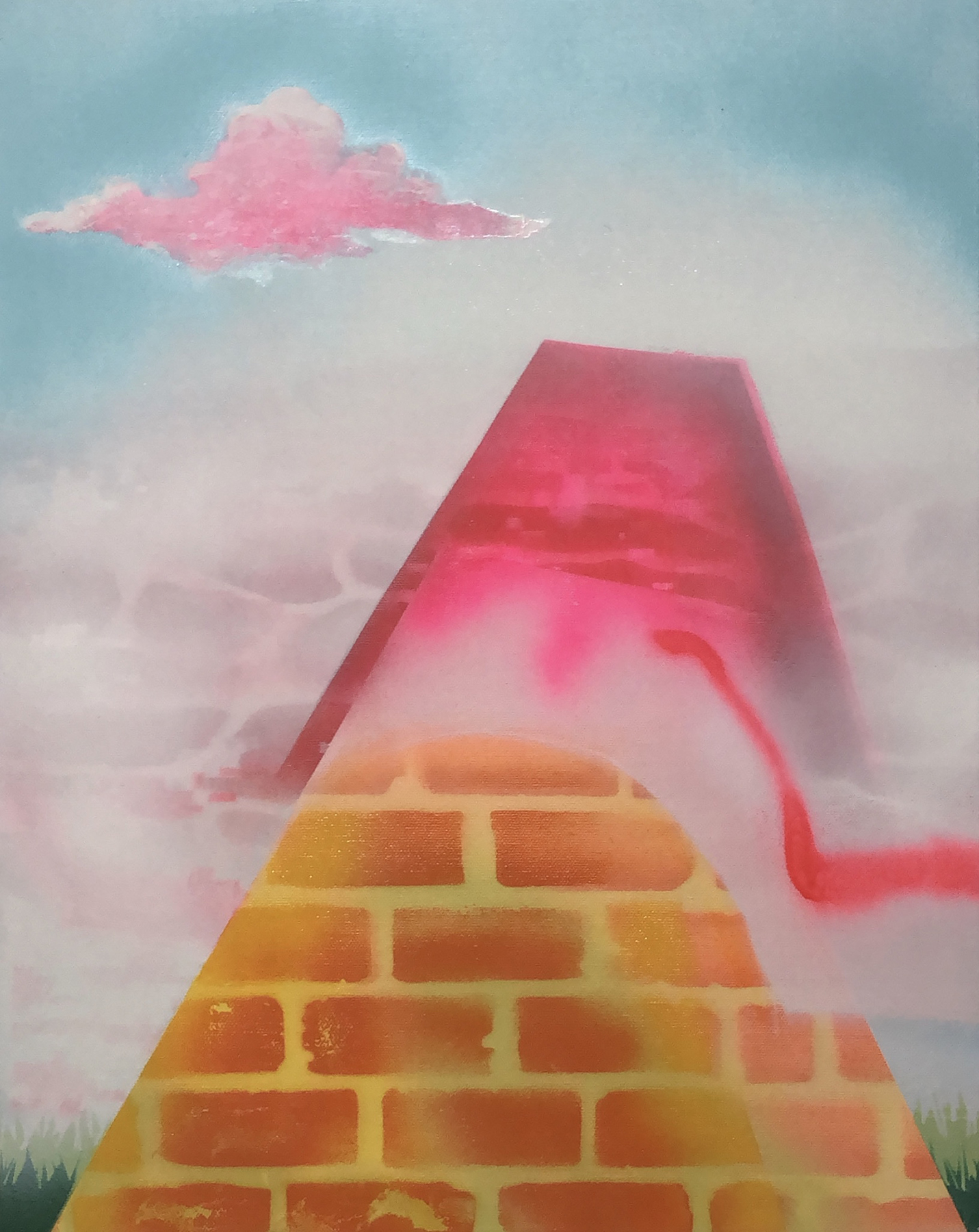 Pink Pyramid
2020
Spray paint on canvas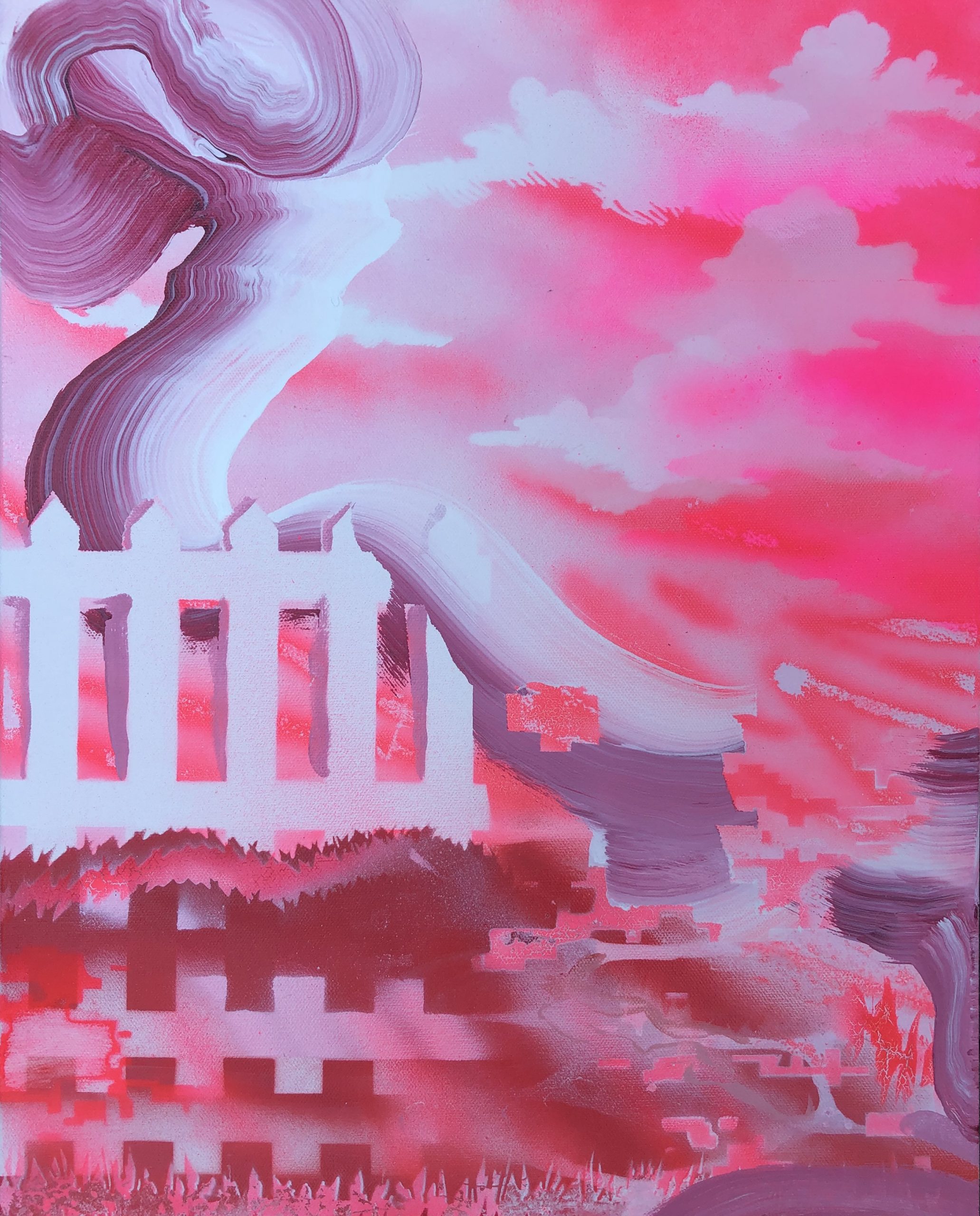 Pink Yard
2020
Spray paint and acrylic on canvas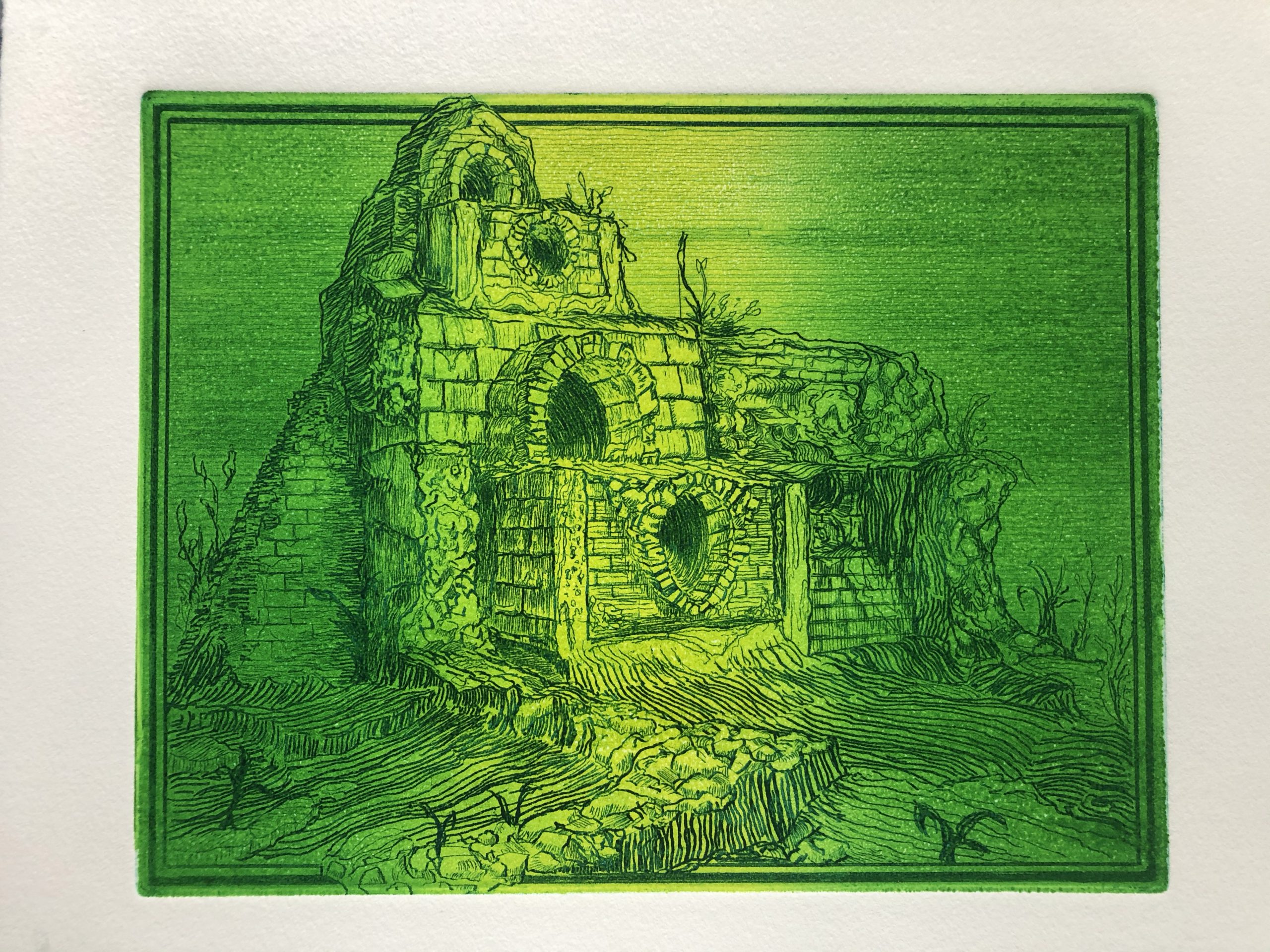 Green Sewer in the Roman Forum
2020
Etching and relief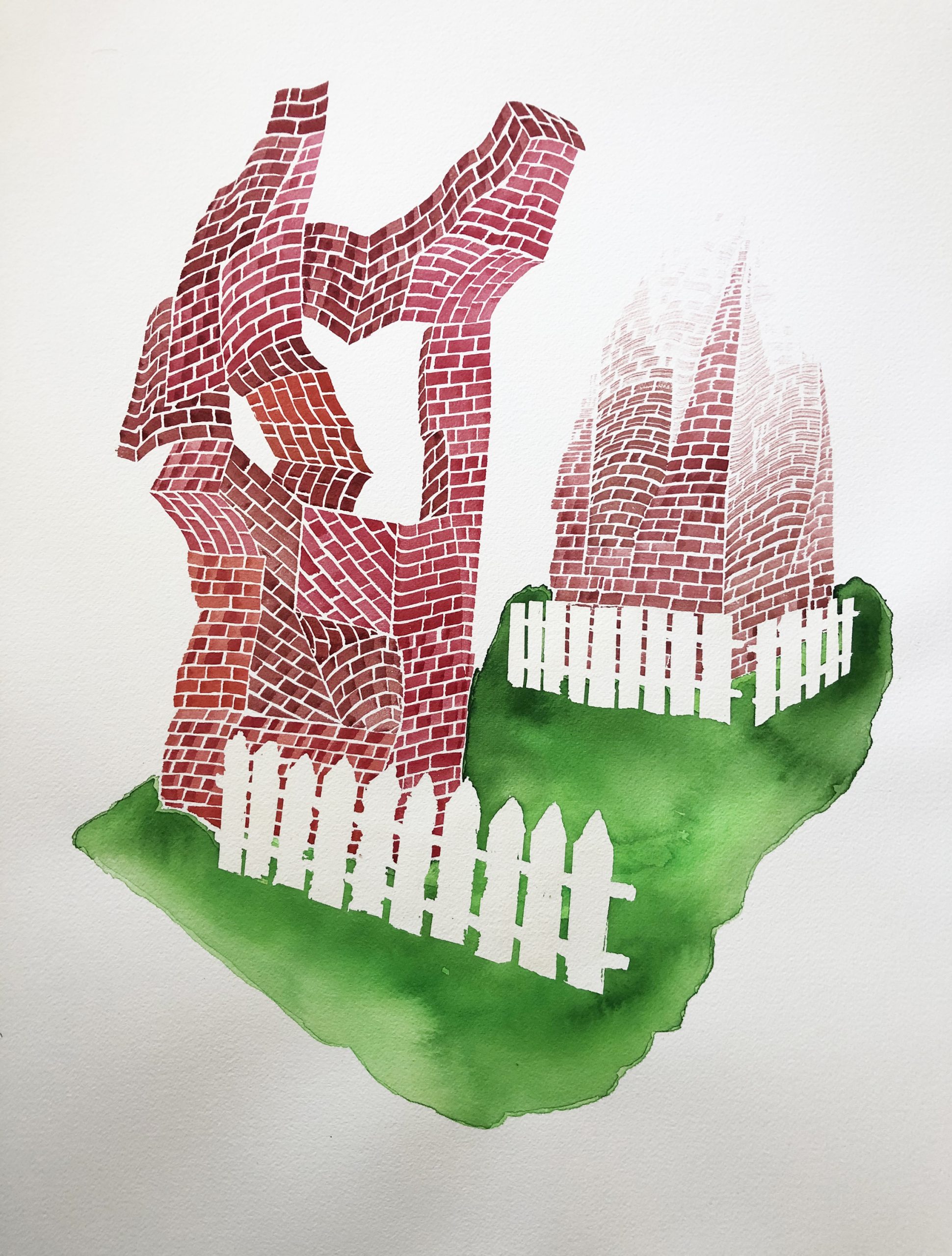 Baths of Caracalla
2020
Watercolor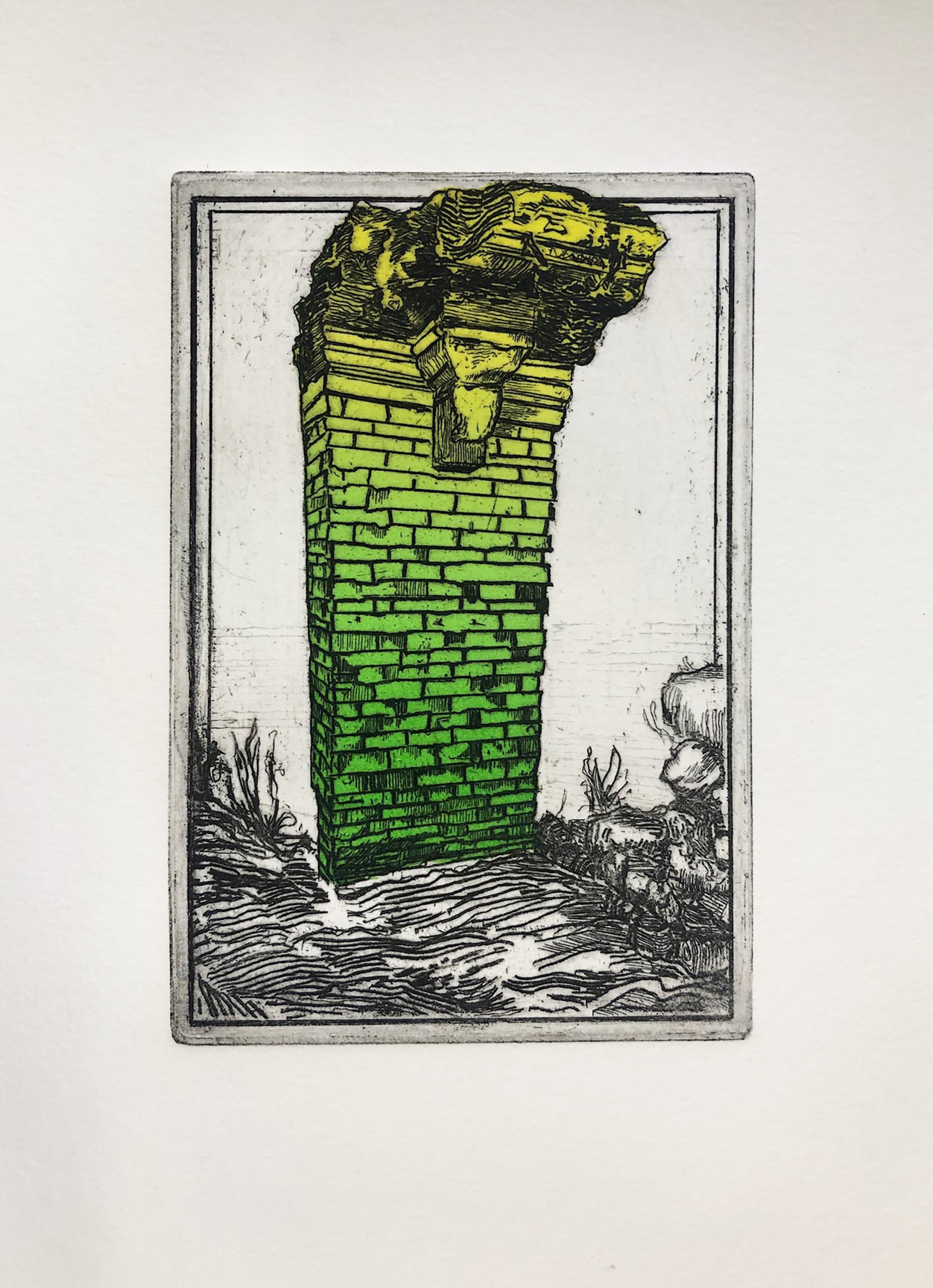 Green Cornice in the Roman Forum
2020
Etching and relief
Biography
John O'Donnell a printmaker and new media artist who uses a variety of mediums to convey a variety of messages. His practice as a new media artist addresses artifice, awkward transitions, nostalgia and media representation through video, installation and performance. As a printmaker he use a variety of traditional and experimental techniques to address formal and conceptual topics pertaining to illusion, construction, failure and nostalgia. Ultimately, he is a studio artist compelled to create images that locate an ambiguous degree of resolution through applied awareness of content and form.
John has created performance and installation pieces for Blue House Arts, Dayton, OH, Glass Box Gallery, Seattle WA, New Britain Museum of American Art, Museum of New Art in Detroit, MI, Proof Gallery in Boston, MA, FluxSpace in Philadelphia, PA and SOHO20 Gallery in New York, NY. He has exhibited his prints at the Print Center in Philadelphia, the International Print Center in New York and Seoul Museum of Art in Seoul, South Korea. His videos have been exhibited at the Chelsea Art Museum in New York and at film festivals in Boston, Los Angeles, Minneapolis, Atlanta, Moscow and Saint Petersburg, Russia. He is Associate Professor of Printmaking at UConn.
Artist Statement
Sewer and Cornice Statement 
In early January 2020, I visited Italy on a research trip to sketch and photograph different ruins in Rome.  I worked from locations and structures depicted by the 18th century Italian printmaker Giovanni Battista Piranesi. Upon return the University of Connecticut print shop I used copper plate intaglio and contemporary print processes to make a series of prints depicting overlooked ruins in the Roman forum.   
The imagery of this print series is inspired by the legacy of Piranesi and the locations he depicted through his etchings.  The imagery has been developed by collaging photographs and drawings of the Roman Forum.  Inspired by green screen special-effects technology and methods of illusion found in art history. These prints merge line work of a traditional etching with localized gradations of neon green ink to define the architectural subjects. 
The prints are designed using traditional conventions of 18th century printmaking, for example each composition is contained by series of borders etched into the copper plate.  Rather than reproduce specific images, I want to capture the character and tone of these historical prints.   
Baths of Caracalla 
This piece is from a series of watercolor drawings from 2020 and references the Baths of Caracalla in Rome, which is a large sprawling area with enormous ruins.  It is a beautiful location with landscaping: green grass, trees and benches.  I viewed this location as a very 'domesticated' space for ruins to exist, this is reflected by the white picket fences that are incorporated with the ruins.     
Pink Yard, Pink Pyramid and Snakes in the Yard  
This series of "Pink Landscapes" where made during quarantine and reflect the strange ways I was observing the outside world.  The color pink is a soft and vulnerable color but also artificial and plastic. I wanted to make a landscape painting to depict a space where these qualities could be projected into the sky, the clouds, the fences, the ground.  The paintings are an effort externalize tenderness in to large open space while revealing the internal chaos of a most fragile shade.