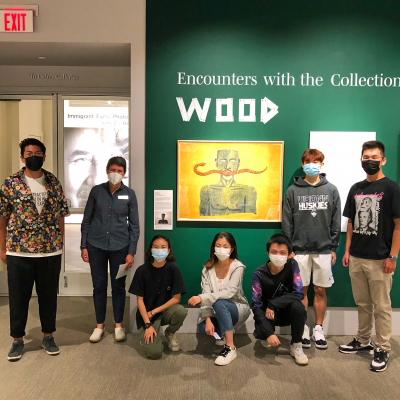 SPRING 2022
Critical Looking Workshop
Sharpen observation skills, practice empathy, and engage in critical thinking at The Benton. This 50-minute workshop shows students how to tap their powers of observation and investigate a work of art through close looking and discussion. Offered in the museum and online.
Engage With Temporary Exhibitions
The Benton's spring exhibitions offer exciting and varied opportunities for engagement. Sign up for a guided class visit or invite students to visit on their own time for an assignment. Following are a few ideas:
What are you nuts about? Use Remembering the Nut Museum as a jumping off point for a discussion of passions and goals.
Explore works of art in the Facing History exhibition through a playlist curated by Jeffrey Ogbar, Professor of History and Director, Center for the Study of Popular Music at UConn.
Request the Benton Art Cart for a drawing session in Encounters with the Collection: WOOD, which includes several sculptures.
Don't see what you're looking for? Benton staff are available to work with you on a lesson plan that aligns with desired learning outcomes.
Contact Amanda Douberley, Assistant Curator/Academic Liaison, for more information.