Ray Guns, Dames, and the Guilty Gaze: Feminism and the Golden Age of Science Fiction Pulps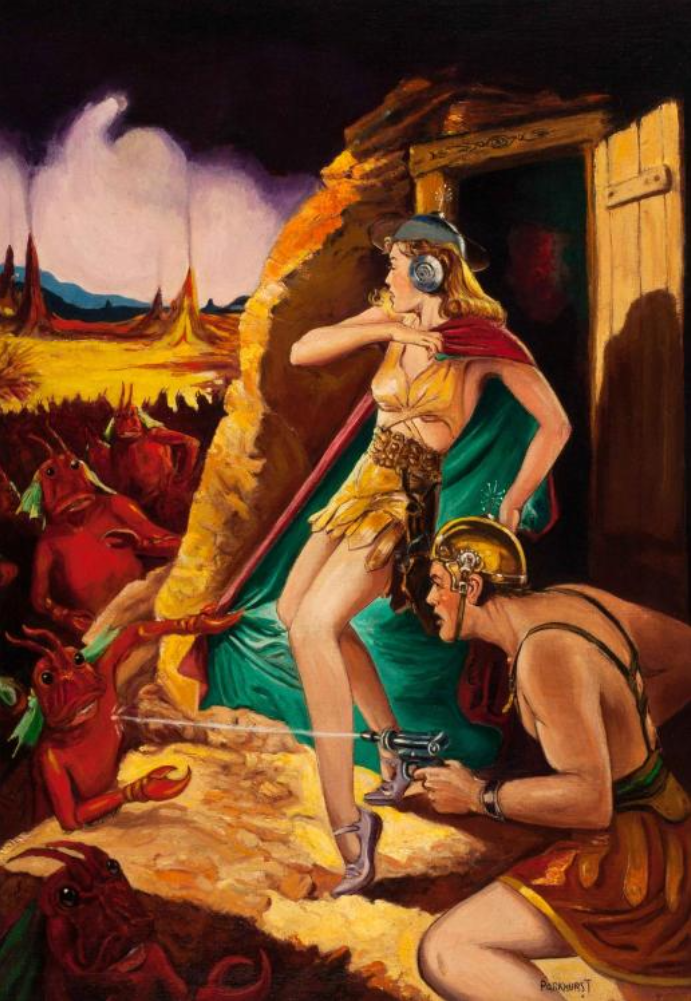 August 30 – December 18, 2022
The availability of cheap and easy printing on pulp paper in the U.S. during the second quarter of the twentieth century spawned multiple magazine publications known as "pulps," giving birth to new genres of speculative fiction, many featuring sex and violence. Almost a century after their creation, the cover art often seems outrageous and exploitative, and how we as a modern audience view these works remains a complicated question. Can we both detest and enjoy looking at this imagery? How do we come to terms with our guilty gaze?
This exhibition turns a feminist lens on the golden age of pulp fiction magazines to question the production and consumption of gender, race, and dis/ability through this wildly popular medium. On the surface, the cover illustrations are lurid depictions, relying on distinct and opposing categories: the damsel or the vamp, the hero or the villain. The covers portrayed narrow ideas of gender and race and told stories themselves about the body and sexuality, but the stories women contributed inside the magazines envisioned a future where women had more autonomy and power, thus making feminism and the science fiction pulps both adversaries and unlikely allies.
Curated by UConn professors Alison Paul (Art & Art History), and Barbara Gurr (Women's, Gender, and Sexuality Studies Program), the show features original artworks from the Robert Lesser Pulp Art Collection on loan from the New Britain Museum of American Art, and original pulp publications on loan from the Watkinson Library at Trinity College.
The exhibition and related public programs are supported by the University of Connecticut Humanities Institute, Women's, Gender, and Sexuality Studies Program, the School of Fine Arts, and the Office of the Vice President for Research.