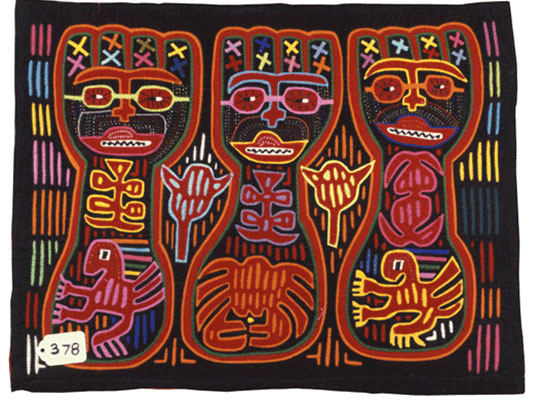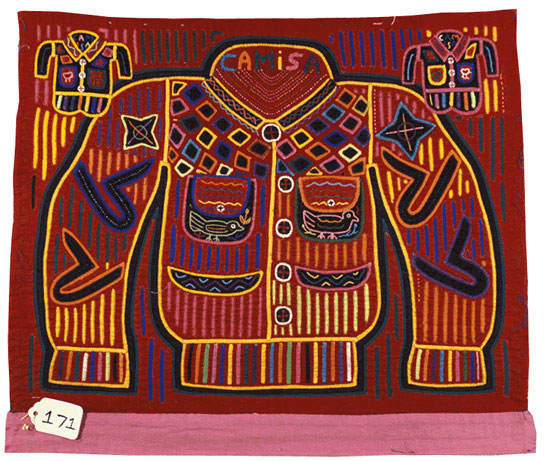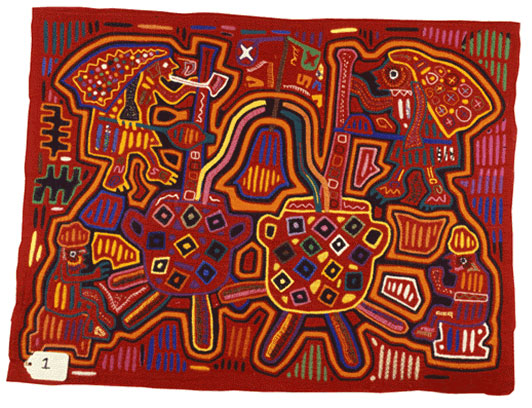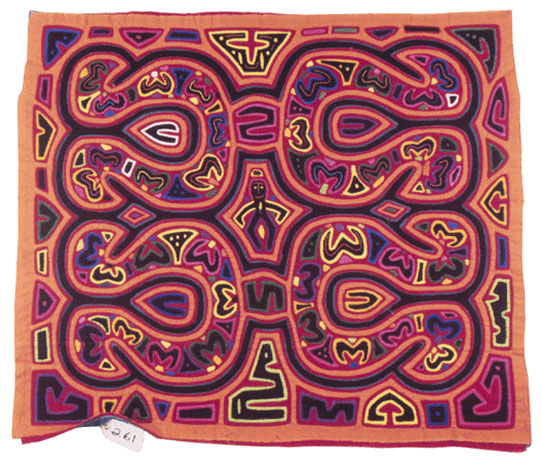 Molas are simple yoke-type blouses richly decorated by intricate needlework. Mola can mean the blouse that is daily wear for Guna (previously spelled Kuna or Cuna) women but most often refers to its front or back panel. They have been made for about a century. The long shifts that were first worn were cumbersome and soon crept up to blouse length, to be paired with a simple sarong. Early loose-fitting molas gave way to blouses of smaller size. What inspired Guna woman to take up the very difficult reverse appliqué technique is unclear. Each panel is constructed of multiple layers of cloth of contrasting colors. The layers are carefully snipped, peeled back to reveal the underlying colors and stitched together to create the pattern. The technique is sometimes referred to as reverse applique. Molas can often have as many as four colored layers of cloth with extra color pieces and embroidery accents added. It takes many hours of sewing to create even the simplest mola.
 The molas in this collection date from the 1940s to the 1980s. Many of them, particularly the earlier, are almost never to be found any longer. Now that the outside world has discovered molas, Guna women sell many of them and thereby find status and power beyond that provided by their traditional matrilineal society. The rest of Panama has discovered molas too, and they are worn today as a symbol of national identity. Guna women continue to sew molas for themselves and continue to vie with one another, as they long have, to create the most dazzling designs. Girls sew as soon as they can handle a needle and, like their mothers, spend hours every day of their lives designing and making molas.
A Gift of Theodor Hans in Memory of his Wife Elisabeth Hans
 In 1963 Elisabeth Hans made her first excursion to the San Blas Islands along Panama's Atlantic coast, home to the Kuna Indians. Her husband Theodor Hans, a United States Civil Service employee, had been assigned to the U.S. Army Southern Command in the Panama Canal Zone in 1962. He recalls that the tropical climate and lush vegetation strongly impressed her, and while visiting the nearby islands she was immediately drawn to the colorful and unique mola blouses worn by the Guna women. She acquired her first two molas and so began a collection that would continue to grow over the course of thirty years.
 As she continued to collect in the 1960s – and even came to understand the Guna language to some degree – members of the U.S. Armed Forces, diplomats stationed in Panama, and important visitors to the area contacted Elisabeth Hans to obtain the best molas. Her activities as a collector and advisor led her to open a specialty shop, Arte Caribe, in Panama City in 1970. Here she sold molas as well as other objects crafted by native artists and artisans from all over Latin America and the Caribbean. She remained with the shop until 1977 when she and Theodor Hans moved to Munich, Germany. Of the estimated 30,000 molas she had collected, she brought 16,000 to Germany. From 1977 until her death in 1993, she owned and operated an export- import firm for Latin American native crafts. Many mola collectors and friends not only respected her as an expert on molas but for her great kindness, generosity, and good humor.
 With Theodor Hans' gift, the Benton Museum has become home to 300 pieces from Elisabeth Hans' extraordinarily rich collection. Thanks to his generosity and the passionate collecting of Elisabeth Hans, visitors to the Benton Museum can always enjoy this intricate art form.
The web presentation of this collection is made possible by a "Museum for the Millennium" grant, a Connecticut League of History Organizations initiative funded by SBC/SNET. The images are for educational purposes only and represent a sample of the collection.
For more inquiries or more information about Molas contact Registrar Rachel Zilinski at Rachel.Zilinski@uconn.edu or by telephone at 860-486-1707.