Unable to visit the way you have in the past? Let the Museum come to you! Complement your classroom learning and enhance your curriculum with a virtual visit to The William Benton Museum of Art.
To schedule your experience please contact the Education Department at 860-486-1711 or via email.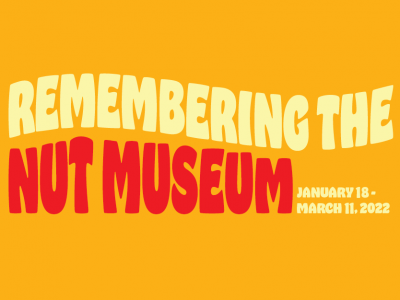 Virtual Experience
40-minute exploration of a special exhibition. All programs feature student-centered discussion to encourage meaningful conversations about art and promote critical thinking, visual literacy, and communication skills.
Optional post-program writing prompt, which may be customized to meet your learning goals. 
Pricing starts at $50 for a virtual classroom experience.
2022 Program: Nuts about Art? Remembering the Nut Museum in CT
Did you ever wonder how big the largest nut in the world is? Learn about the rare Coco De Mer, endemic to the Seychelles islands
Explore the Nut Museum founder, Elizabeth Tashjian's, paintings and memorabilia
Fruit or seed? Learn about different types of nuts from around the world and how they are used in various cultures
Related Exhibition: Remembering the Nut Museum: Visionary Art of Elizabeth Tashjian
(on view January 18-March 11, 2022)
In April 1972, Old Lyme artist Elizabeth Tashjian (1912-2007) opened on the ground floor of her Victorian mansion a museum devoted to nuts. The Nut Museum operated until 2002 and featured Tashjian's nut paintings and sculptures, as well as a collection of nuts, nutcrackers and nut-related memorabilia. 
 This exhibition celebrates the 50th anniversary of the Nut Museum's opening. Curated by Connecticut College Art History professor Christopher Steiner, the exhibition recreates the Nut Museum's main exhibition gallery, with all of its original furnishings, art and displays. It also features a retrospective of Elizabeth Tashjian's paintings and sculptures, as well as a video compilation of her media appearances (The Tonight Show Starring Johnny Carson, David Letterman, Jay Leno, and Howard Stern) on national television. Under Professor Steiner's stewardship, Connecticut College was entrusted to preserve approximately 150 paintings, 200 drawings, 20 sculptures, 100 boxes of documents and photographs, and all furniture and displays from the museum portion of the house.
 Although the Nut Museum's original mission was to highlight the beauty of nuts as depicted in Tashjian's art, the museum's scope soon expanded. "As creator and curator of the Nut Museum, I became aware that some people …[are] considering themselves to be a nut," said Tashjian. "So, my motives changed. I set out to remove the demerit marks from the word 'nut'. My painting then used the power of art to make social commentary."