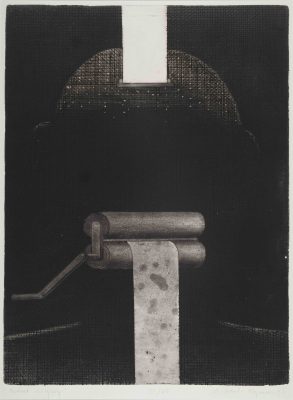 DEMOKRACJA GRAFIKA: The Democracy of Print
October 24, 2019 – March 13, 2020
Opening Reception:  Thursday, October 24, 2019, 4:30 – 7pm
This exhibition celebrates UConn Professor Emeritus of Printmaking Gus Mazzocca's gift to the Benton of more than 150 prints by Polish artists. The prints came to Mazzocca through the exchange program that he established in 1984 with the Academy of Fine Arts in Krakow, Poland. Produced largely during the 1970s and 1980s, the prints provide an opportunity to sample artistic production in Krakow during the Cold War, when Poland became a satellite state of the Soviet Union. The exhibition's title, presented in both Polish and English, suggests how printmaking helped artists involved in the exchange transcend cultural and political barriers to find common ground.
The exhibition is divided into three parts. The first section situates key works within the context of Poland's Cold War history. It explores how artists used metaphor to represent the contradictions of life under Communism. The second section features a wide variety of prints by artists who studied and taught at Jan Matejko Academy of Fine Arts in Krakow. The selection shows how generations of artists at the academy have shaped each other's work. The third section documents the early years of the exchange between UConn's School of Fine Arts and the Academy of Fine Arts in Krakow. It includes prints as well as posters, video, photographs, and other ephemera from the exchange's twenty-year history.
DEMOKRACJA GRAFIKA: The Democracy of Print presents work by more than thirty artists, including Zbigniew Biel, Jan Burnat, Jan Bujnowski, Zbigniew Czop, Jerzy Dmitruk, Stanisław Jakubas, Małgorzata Jenta-Dmitruk, Zbigniew Jeżo, Joanna Kaiser, Bożena Korska, Włodzimierz Kotkowski, Andrzej Kowalczyk, Tadeusz Król, Piotr Kunce, Włodzimierz Kunz, Wojciech Kwaśniewski, Gus Mazzocca, Ryszard Otręba, Jan Pamuła, Jerzy Panek, Andrzej Pietsch, Anna Sobol-Wejman, Jacek Sroka, Marek Szymański, Krzysztof Tomalski, Jan Uhrynowicz, Dariusz Vasina, Krysztof Wejman, Mieczsław Wejman, Stanisław Wejman, and Roman Żygulski.
The exhibition is a collaboration with the Department of Art and Art History, UConn Global Affairs, and Archives and Special Collections, UConn Library.
Public Programs:
Marta Anna Raczek-Karcz, Assistant Professor in the faculty of Graphic Arts at the Academy of Fine Arts in Krakow, Poland gave The Annual Gene and Georgia Mittelman Lecture in the Arts on November 6, 2019.
Listen to her talk "Metaphor and Irony: The Krakow School of Printmaking"
This talk was recorded by UCTV.