Traditional children's stories from Europe have made their way around the world through picture books. European children's stories, as well as traditional Guna children's stories, are common subjects for mola blouse pieces.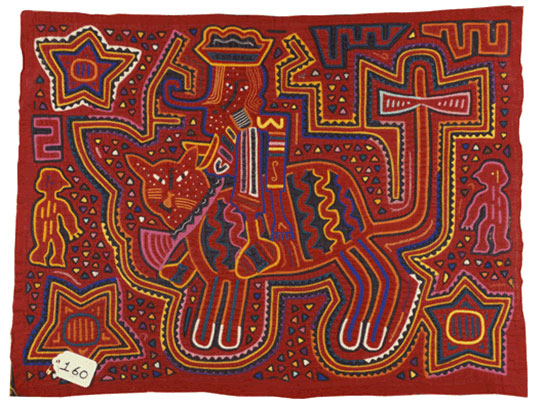 Children's Book Illustration: King on Cat [1997.1.202]
The size and technique indicate that this mola dates back to the 1950s or 60s. It is taken from a children's book illustration of a king riding a cat. The rickrack patterning, which outlines much of the mola, is all done by hand. It is laborious work that has to be snipped, tucked in, and then sewn.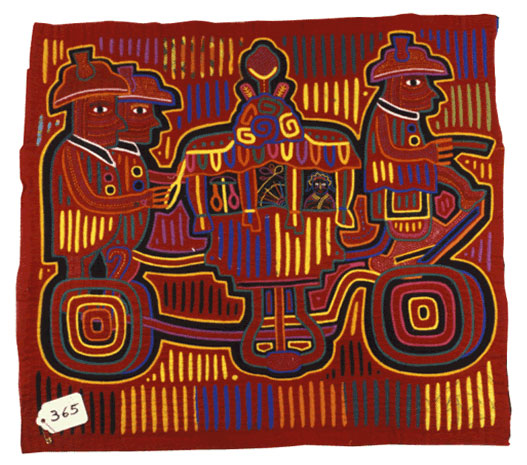 Cinderella [1997.1.207]
This mola was likely taken from a children's book illustration. It shows a coach with a female figure inside. A coachman is driving the horse and two footmen bring up the rear. The female figure could be Cinderella from the children's tale. The mola is evenly stitched, not extremely intricate, but carefully done and depicting an unusual subject.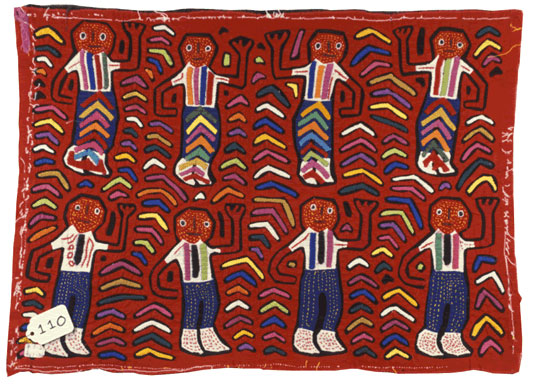 Boys in School Uniforms [1997.1.221]
This mola depicts boys in their uniforms probably from the Canal Zone of Panama. This image is most likely copied form a newspaper picture, as Guna children did not have these opportunities at the time. The predominant colors used in this mola are red, white, and blue, which may signify the mola-maker's favorable comment on the close ties between Panama and the Canal Zone.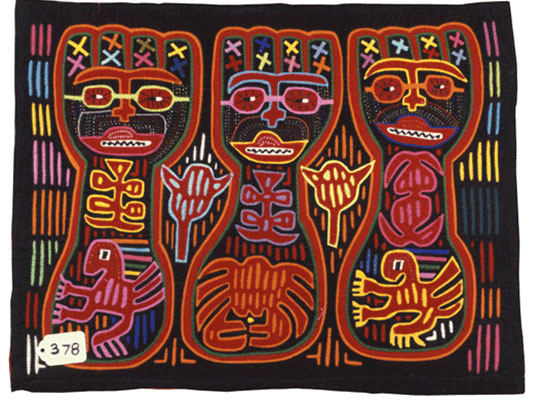 Three Baby Rattles [1997.1.220]
Decorative plastic baby rattles are often seen in the San Blas. The maker of this mola elaborated on the usual rattle design, adding faces with glasses and other patterns on them such as a horse and crab. The actual toy in this same shape, a baby's plastic rattle imported from Hong Kong, was found in a Guna hut and inspired many versions of this design.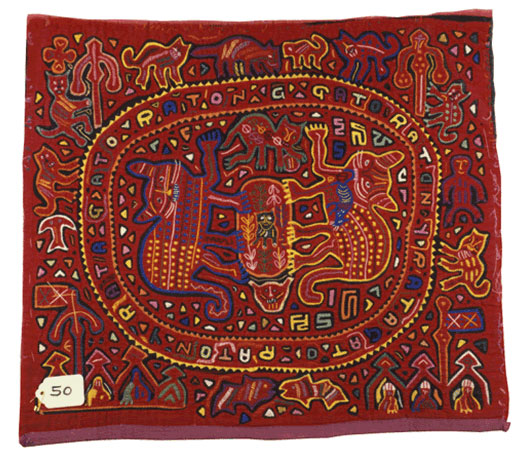 Cats and Mice [1997.1.206]
This mola's design is probably based on a children's book illustration. It has the definite look of being copied from something else, possibly a book of nursery rhymes. The words, "raton y rata y gato," translated as cats while away the time with mice. Images of cats and mice are repeated all over the piece.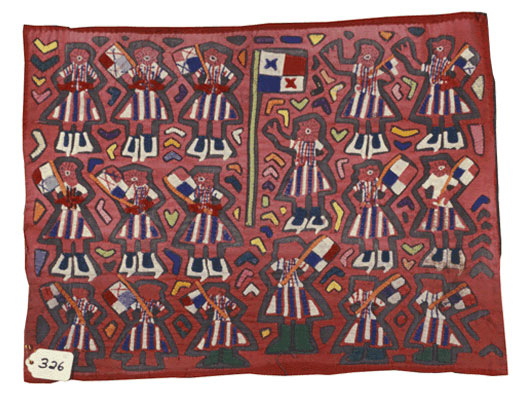 Girls in School Uniforms [1997.1.222]
This older mola shows schoolgirls in uniform, most of them with a Panamanian flag. This mola is quite faded from wear and sun. The lower part of this mola looks unfinished, but doesn't matter as a skirt probably hid it from view. The work on this mola is rather crude and almost abstract and possibly dates form the 1950s.