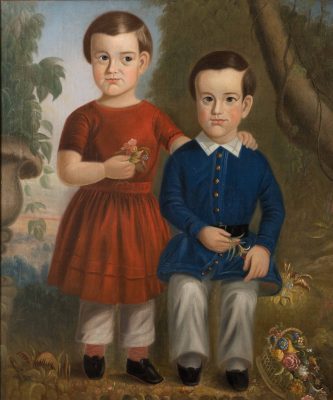 Unknown American, Charles Gordon and his Sibling, c. 1852, Oil on canvas, Gift of John E. Blair In Memory of His Father Edgar S. Blair, William Benton Museum of Art.
October 28 - December 18, 2021
This exhibition offers a glimpse into childhood in 19th and early 20th century America through works of art in the Benton Museum's permanent collection, as well as through objects on loan from UConn Archives and Special Collections, and other museum and private collections. This exhibition will touch on the changing concepts of childhood and look at the gendered imagery found in so many of its depictions.  This exhibition features paintings and works on paper as well as some objects of material culture including toys, primers, samplers, and furniture.
EVENT:  November 11, 5 - 6:30.  Children's Chairs.  Arthur Liverant is a third generation antiques dealer and owner of Nathan Liverant and Son located in Colchester, CT.  His grandfather founded the business more than 100 years ago.  Mr. Liverant will bring samples and talk about chairs built specifically for children through American history.